Finally, you have this splendid opportunity of meeting your favorite celebrities and historical figures in Madame Tussauds London.
They are not present in person but look realistic in their wax statues.
Inaugurated in 1884, Madame Tussauds Museum in London displays wax statues of celebrities from all over the World.
You name it, and they've got it – with a never ending list of politicians, royals, movie stars, sports stars, famous criminals, etc.
Younger kids and teenagers love the opportunity to click selfies with 250+ famous life-like wax figures from all walks of life.
This article shares everything you must know before booking your tickets to Madame Tussauds London.
What to expect in London Tussauds
---
---
Opening hours
Madame Tussauds in London opens at 9 am or 10 am and closes at 4 pm, 5 pm, or 6 pm, depending on the day's schedule.
Opening hours at the wax museum vary throughout the year.
This is why it is best to visit Madame Tussauds between 10 am and 4 pm.
Best time to visit
The best time to visit Madame Tussauds London is as soon as they open at 10 am or in the afternoon, between 2 pm and 3 pm.
Since visitors usually take two hours to explore the London attraction, you can finish exploring the Wax Museum, even if you start at 3 pm.
Tuesday, Wednesday, or Thursday are the best days of the week to visit Madame Tussauds in London.
How long does it take?
Most visitors spend two hours at Madame Tussauds, exploring all the exhibits, including the Marvel Super Heroes 4D movie and Star Wars experience.
The good news is there is no time limit on your ticket.
Once inside, you can spend as much time as you need.
---
---
Madame Tussauds London tickets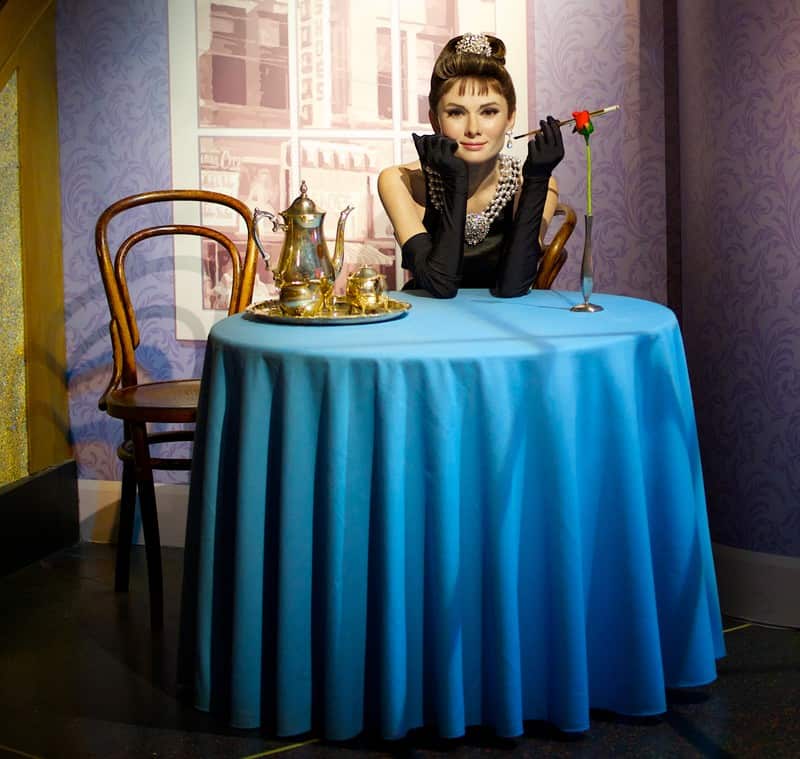 Tourists can buy tickets at the venue on the day of their visit or book them online.
When you buy your tickets online, you get a guaranteed entry and avoid wasting time at the counter lines.
The average waiting time at Madame Tussauds' ticket counter is one hour, which can even go up to two hours during peak times.
Online Madame Tussauds tickets are more than 10% cheaper than the tickets sold at the venue.
How online tickets work
You choose your time and date of the visit while booking your London Madame Tussauds tickets online.
Immediately after purchase, you will get a confirmation email.
There is no need for printouts.
You can show the confirmation email on your phone and enter the museum on the day of the visit.
These tickets are valid for the selected date, but you can enter the museum anytime.
If your plan changes, you can reschedule your tickets online.
Kids two years and younger get in free, but you must select a free ticket for them during the booking process.
Advance ticket price
The price of a Madame Tussauds London ticket is £33.50 per adult if booked in advance.
When you book Madame Tussauds tickets at least 24 hours before your visit, you save 3.50 pounds per person on the ticket cost.
Cost of advance ticket
Adult ticket (16+ years): £33.50
Child ticket (3 to 15 years): £30
Infants: Free entry
Same-day ticket price
Same-day tickets are costlier, even if you purchase them online.
On the day of your visit, the regular Madame Tussauds entry ticket for an adult costs £37 per person – £3.50 more than if you had booked in advance.
Cost of same-day ticket
Adult ticket (16+ years): £37
Child ticket (3 to 15 years): £33.50
Infants: Free entry
Madame Tussauds London discount
Madame Tussauds London offers discounted tickets to children up to 15 years of age.
Children aged 3 to 15 get a £3.50 discount on advance tickets and pay only £30 to enter.
They also get a £3.50 reduction on same-day tickets and pay only £33.50 to explore the wax museum.
However, the most significant ticket discount at Madame Tussauds is available when you buy tickets in advance.
Ticket inclusions
All tickets include access to the below-given special experiences at the wax museum.
Star Wars Experience
Marvel Super Heroes 4D Cinema
Spirit of London ride
The Skull Island
The Glow Room
Alien Escape
---
---
Experiences at Madame Tussauds London
Besides the wax statues of celebs, Madame Tussauds London also has fantastic experiences.
This London attraction has seven unique experiences suitable for the whole family.
Marvel's Super Heroes in 4D
Don't miss Marvel Super Heroes in 4D, an exciting adventure picture in which the superheroes band together to defend the planet from evil.
The Sherlock Holmes Experience
The Sherlock Holmes Experience is a recreation of the World of detective Sherlock Holmes on Baker Street.
It is a dramatic walkthrough adventure that the whole family will enjoy.
Because this is a paid activity, you must purchase tickets in advance, which cost 5 pounds per person.
It is not included in the normal admission ticket.
The Glow Room
The Glow Room is a new addition and path-breaking photographic experience which takes inspiration from Princess of pop Dua Lipa's stage sets.
Visitors can pose with the pop star even as ten cameras fire sequentially to create a free 3D gif for you to share with friends and family.
The Skull Island
The Skull Island at Madame Tussaud's London is a recent addition inspired by the 2017 movie 'Kong: Skull Island'.
This section features a giant animatronic head of King Kong (18 feet / 5.5 meters) high, giving it scary proportions.
The kids love this life-like moving model.
Alien Escape
You needn't have seen any of the Alien movie series to get an adrenalin rush from 'Alien Escape' at Madame Tussauds London.
In this section, you will step on board the Covenant ship and meet with Xenomorph, the Alien.
Spirit of London Ride
All Madame Tussauds London tickets include the 5-minute Spirit of London Ride.
During the ride, you will sit in one of London's infamous black cabs, even as the narration takes you through the historical and cultural events that shaped London over the years.
Star Wars Experience
Madame Tussaud joined hands with Disney and Lucas Film to create this visual treat with extraordinarily life-like wax figures of the heroes and villains of Star Wars.
Besides the figures, you will see locations such as Swamps of Dagobah, the flight deck of the Millennium Falcon, Jabba's Throne Room, etc.
---
---
How to get to the museum
Madame Tussauds London is on Marylebone Rd, Marylebone in London NW1 5LR. Get Directions
Marylebone Road is an extension of the A40, one of the major routes in and out of London.
By London Underground
Madame Tussauds is just a two-minute walk away from Baker Street tube station.
To get to Baker Street underground station, you can get on any of the following Underground Lines – Bakerloo, Circle, Jubilee, Metropolitan, and Hammersmith & City.
By Public Transport
Marylebone Station is about 10 minutes' walking distance from Madame Tussauds.
Euston, St.Pancras, Paddington, Victoria, Waterloo, and Charing Cross mainline stations are all within five stops away from Marylebone Station.
If a bus is your preferred mode of transport in London, get onto bus numbers 13, 18, 27, 30, 74, 82, 113, 139, 189, 205, 274, and 453.
All of them pass via Madame Tussauds London.
By Car
The best way to drive to Madam Tussauds is by firing up Google Map and following the directions.
Even though the Wax Museum is situated outside the Congestion Charge Zone, they don't have any parking.
But there are enough parking spots near Madame Tussauds, the closest being Chiltern Street Masterpark and Cramer Street Masterpark.
Madame Tussauds in Europe
# London
# Amsterdam
# Berlin
# Prague
# Vienna
# Blackpool
# Istanbul
# Budapest